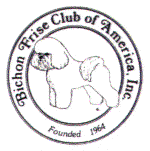 Official Website for
The Bichon Frise Club of America, Inc.
Member of the American Kennel Club

Be an "angel" and support
Bichon health Research
Buy a Bichon Christmas Ornament
Proceeds go to the fund for
DNA test research at
the University of Florida
Christmas Ornaments $18 each

Bichon Angel Pins $20 each
(Color Picture coming soon)
Make checks payable to:
BFCA
Send order to:
Charlotte Moellenbeck
36 Wilderness Gate Road
Santa Fe, NM 87501


You are visitor number since September 7, 1998.

Last update: Sunday, September 7, 1998

BFCA Webmaster Janice Sheehy Janice@BichonFrise.org

© 1998, All Rights Reserved
The Bichon Frise gif images are the sole property of Kiyomi Ochiai or BFCA. Ms. Ochiai's gif images are used on this website with her express written permission and may NOT be copied from this site. The other gif images are the property of BFCA and may NOT be copied from this website.