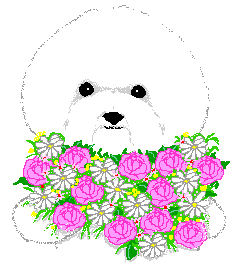 Bichon Frise
GuestBook
August 1997

From: Tonia Scheiter (tschei@feldinc.com)
Host/Computer: 208.197.191.146
Date: Wed Aug 27 14:23:06 1997

My Pita!

Pita, now 7 years old, (will be 8 in Nov) and I are still together. It's love when you wake up in the morning, and the first person you see is your dog laying there next to you, his head on your pillow, with a look of all the love in the world staring back at you.

My favorite thing about Pita is when I talk to him, he cocks his head to the side and gives me a look like he knows what I'm saying!

Note: Janice- I love your website. It's great!
---

From: Kim / Norm Wymer (nwymer@toledolink.com)
Host/Computer: 205.133.127.34
Date: Wed Aug 27 14:20:52 1997

Our first Bichon

I have just arrived home from a business trip to
Mexico when my wife surprized me with a male
Bichon. I would tell you his name, but our
children are not home from school yet (they do
not know about this either...) and I'm sure
they will decide upon a name.

We bought the dog primarily because my wife and
kids have allergic reactions to most dogs, but so
far so good (at least with my wife).

Wonderful website - great information. I couldn't
have spelled Bichon correctly over an hour ago,
but now I feel she has made a great choice in
adding to our family.

Again, thanks...

---

From: Tonia Scheiter (tschei@feldinc.com)
Host/Computer: 208.197.191.146
Date: Wed Aug 27 14:18:44 1997

My Pita!

Hello all! I just wanted to tell you about my wonderful Bichon, Pita. (Pita stands for Pain, In, The, ___.) I grew up having cats as pets, so when my older sister wanted a dog for our next pet, I thought she was crazy! But boy, was I wrong. When we first got Pita, the hardest thing was to give him a name that fit his personality. Being a puppy, of course, trouble was all he got into. So my sister named him Pita, as a joke. Being my sisters dog, they didn't quite seem to bond like we did. He slept with me. My sister shortly moved out of the house, so Pita's and my friendship deepened. When I moved out a couple of years later, my roomie didn't want a do. My mom kept telling me that Pita acted like he lost his best friend. And he had! Now, thanks to my understanding fiancee', Pita and I have been reunited. I love that dog with all my heart! He's my baby. And for anyone who is looking for a pet, I highly suggest a Bichon. They will change your life!

Pi
---

From: bob taylor (telplus@msn.)
Host/Computer: 153.35.3.146
Date: Wed Aug 27 10:41:00 1997

allergies to the bichon

We are contemplating acquiring another dog fo r our children. However two of them are asthmatic and have numerous allergies. I am trying to find out if the Bichon is what we have been led to believe and that is non-allergic?
If you could clarify the issue, we would be most grateful, we have not had a dog in over 8 years!
---

From: Rachel
Host/Computer: 207.140.8.96
Date: Wed Aug 27 08:38:38 1997

Sabastian

I got my Bichon in Jan "97 for my birthday. My mom had just passed away from cancer and I was scheduled for a very serious back surgery. I felt like my world was falling apart. Little Sabastian was just what I needed. I had so much love to give and was so depressed, he made me laugh when I was crying and has been my constant companion ever since. I have yet to return to work, so he is with me 24 hours a day. Sleeps with me and hubby. however, very jealous, chews hubby's nose if he tries to get close to me or kiss me!! We adore our little Sabastian. Concerned lately he has been licking and chewing his paws and I can't figure our why. He does not seem nervous about anything. He did get groomed two weeks ago and she cut him a little shorter then I expected. I've tried soaking him in warm water with baking soda. I would greatly appreciate any suggestions/comments from members. Also, I live in northern New Hampshire, and Sabastian will go for walks in the winter
---

From: Becky (becky@txcc.net)
Host/Computer: 205.218.183.141
Date: Wed Aug 27 02:01:23 1997

Mattie, my precious pet

I had always had a Pekingese but due to their health problems decided to try a different breed. I went to the Animal & Rescue League to "meet & bond" with a Shiz Tzu I was told about. When I got there, the dog I was supposed to adopt was just not for me. However, there was a very dirty, matted dog that can & plunked down on my foot. She had just been fixed earlier in the day so she was a little sluggish. I fell for her right away- instantly, messy as she was. I ended up naming her Mattie because of her appearance that day. She is the best pet!!!! A wonderful companion, loveable, and extremely smart. I often wonder about her past life but am thrilled that she lives with me now.....
---

From: kathleen fincher (kfinch1.fort@worldnet.att.net)
Host/Computer: 207.146.163.189
Date: Tue Aug 26 21:04:08 1997

" terry" my bichon

My Bichon is my best friend. I feel so lucky. He is very affectionate but can be very stubborn. He loves the groomer very much. All you have to do is metion her name and he will run around the kitchen to find his leash.
---

From: Jo (dcpea@msn.com)
Host/Computer: 153.34.114.216
Date: Sun Aug 24 20:22:08 1997

Looking for a bichon puppy

Does anyone know of a reputable breeder in Maryland. We have tried the local kennel clubs and have gotten nowhere. Would greatly appreciate any help. We very much want a sweet tempered bichon as part of our family.
---

From: PColl (5236p8cf@mail.sendanet.es)
Host/Computer: 194.179.73.75
Date: Sun Aug 24 19:12:17 1997

Bichon Frisé from Spain

¡¡Congratulations Janice for your great web site!!.We are from Madrid,Spain.We have a little Bichon Frisé,"Copito",he is looking for a girlfriend.Can you help us?.Are there any breeder in Spain or European area.
Hasta la vista.
---

From: Mary (mmeredith@earthlink.net)
Host/Computer: 153.34.145.149
Date: Fri Aug 22 23:27:25 1997

Pride and Joy!

Our first Bichon, Scooter, gave us great joy for 18 years. My husband surprised me one year after Scooter's death by bringing home a tiny little ball of fur who we named Chloe. We actually had a nanny stay with her during the day when she was a baby because we both worked outside the home. She is our 10 pound pride and joy and is truly cheerful, affectionate, sensitive and good natured. We highly recommend the little darlings for anyone who has a lot of love to give. They demand the attention and it's worth every minute of one's time. Chloe has fallen in love with a young Bichon named Shotsie. Our family members love Chloe so much they asked us to breed her so they may have her puppies. Since we know each of these people very well we are confident they will be good moms and dads to our babies. Keep your fingers crossed - we can't wait to become grandparents! (We enjoy your web site.)
---

From: Karen (jetmech_ual@msn)
Host/Computer: 153.35.156.149
Date: Fri Aug 22 21:55:59 1997

Daddy's Little Dana

We just became the proud owners of a beautiful 8 week old bichon. She stole our hearts the minute we saw her and we knew right away her name was Dana. The research I was able to do on the net allowed us to truly see what a wonderful dog this will be. Here's to years of fun and love.
---

From: KVS
Host/Computer: 207.34.220.134
Date: Thu Aug 21 17:04:58 1997

General

I LOVE my Bichon!!! He's brought so much love and companionship to my life. He's the only breed I would reccommend and have ever owned. Would not trade him for the world. Best breed for families with children, singles, elders...etc....
---

From: Jasmine (Foti@LIJ.edu)
Host/Computer: 204.168.194.5
Date: Thu Aug 21 16:54:36 1997

Jasmine my 2and 1/2 year old Bichon

Jasmine has been the most loveable and beautiful dog I have ever had. she loves to give kisses and would stay sleeping on my bed with me if I stayed in it all day. I hate to leave her because it is amazing how much love these dogs give. I can hold her like a baby and rub her belly, she doesn't shed, hardly barks, but I must say in the last few months has seen to become a bit of a watch dog and will bark if someone comes near the house. What can I say, I love her. I would love to talk to anyone about their Bichons. Also what is the average life span, I hate to think about death
---

From: Pamela Yates (PJLYates@aol.com)
Host/Computer: 152.163.205.88
Date: Thu Aug 21 08:22:22 1997

Bichon's

I have had the pleasure of being Che's (my Bichon) mom for 7 years now and she has been an absolute pleasure. I just wanted to include our name on your list. We love your web site and we enjoy talking to others who have the pleasure of enjoying a Bichon in their lives.
---

From: Brian Clark (abclark@gil.com.au)
Host/Computer: 203.1.75.11
Date: Thu Aug 21 07:20:27 1997

Toilet training our Bichon

We have had great success toilet training our Bichon (Shoki) by first giving her a designated spot near a door of our house. We started this when we first brought her home at six weeks of age. At approximately five months the paper was removed and we began to work with her "schedule" and coordinate it with our work schedule (7-5) Now Shoki is able to relieve herself upon rising and when we arrive home at apporximately six at night. She has adapted fabulously well through a method of conditioning that was not abrupt and allowed her to set her own biological clock.
---

From: Bob (bobdncpd@aol.com)
Host/Computer: 152.163.205.88
Date: Wed Aug 20 21:52:16 1997

Bichon Frise

I just lost my Bichon on Aug. 11, 1997. He suffered from kidney failure and had to be put to sleep at age 7. Sept. 6 I'm getting my new Bichon and am looking forward to getting him. Has anyone else experienced this with their dog?
---

From: Beth Garland (obsidian@together.net)
Host/Computer: 208.13.202.246
Date: Wed Aug 20 13:51:03 1997

Love your site!!!`

Our family is currently looking for a special new addition to our family. I think that these animals are so sweet. We have two children. They will be 3 and 5 in November so we are looking for a loveable puppy to grow up with our puppies. I think a Bichon might just fit the bill.

We live in Vermont, would the cold be too much for them? I do not work, so I would be home most of the day.
---

From: Kar (jela@wizvax.net)
Host/Computer: 204.97.177.10
Date: Wed Aug 20 12:09:15 1997

Types of Bichons

What are the 4 kinds of Bichon Frise? I understant that there are 4 kinds. What are their characteristics? Bolganese is one? Can someone help with this?
---

From: Kar (jela@wizvax.net)
Host/Computer: 204.97.177.10
Date: Wed Aug 20 11:57:22 1997

Types of Bichon Frises

Can someone help me and decribing the 4 types of Bichons? What are the characteristics? Mine is 17 lb female and seems to have a long nose. Is this mean a Bolonese Bichon? Thanks
---

From: Erika Bruening (Erika@inacom.net)
Host/Computer: 206.158.221.13
Date: Tue Aug 19 19:06:23 1997

Average Weight for Female Bichon

I have had a Bichon Frise for 7 years, her name is Suzie, she seems to be quite big for the breed...what is the average weight for a female Bichon?
---

From: Debora (bensmith@united.net)
Host/Computer: 204.116.102.242
Date: Mon Aug 18 18:52:58 1997

Looking for a pup!

I am looking for a respectable breeder of Bichon Frise in the Tennessee area. References would be nice to have along with any other information.

GREAT WEB SITE!
---

From: corrie-ann (lilsis1025@aol.com)
Host/Computer: 152.163.204.135
Date: Mon Aug 18 14:38:28 1997

~~~~~~~~My Bichon Frise Elvis~~~~~~~~

My bichon Elvis looks so cute!!:-)And he is very
good with children.BICHON FRISE'S ARE THE BEST
DOGS IN THE WORLD.

---

From: Virginia Fuller (kidseduc@roanoke.infi.net)
Host/Computer: 206.152.68.93
Date: Sat Aug 16 18:04:30 1997

Looking for a Bichon Breeder in Va. or NC area

Terrific Web page..Have been looking for a dog for sometime. Lost my poodle of 16 years last summer and am ready for a companion again and have liked everything I have learned about the Bichons. I would like to eventually show my Bichon as I did with my poodle (Buffy) She was great and I know I couldnt get a poodle again. Thanks for the great web page and Information..Email me anyone of any leads we do have a petstore that sells them but I have heard it is not a good idea to get it there.
---

From: Dr. Carl Reek (carlreek@worldnet.att.net)
Host/Computer: 207.147.132.239
Date: Sat Aug 16 15:40:34 1997

Thanks

Enjoyed your website very much. I used to own two bichons which I miss dearly. I am very interested in becoming part of the rescue project. Thank you for sharing the love and warmth so naturally generated by bichons.
---

From: Cheri (Cheryleve@aol.com)
Host/Computer: 152.163.194.5
Date: Sat Aug 16 01:22:19 1997

hoping to adopt a bichon

Hello to all: I have been reading and researching
the bichon through Janice's wonderful site for months
now and am about ready to adopt. I am hoping that
I'll be as lucky as you all in finding a Bichon
with a great temperament. I have a 13 year old
daughter who is (temporarily, I hope) disabled
and believe that the right bichon will bring out
the best in all of us.
What do you all think of the name "Jazzbo"?

I'll let you know how it works out!

[Home Page] [AKC] [AKC Registrations] [AKC Standard]
[Bichon Note Cards] [Bichon Clubs] [FAQ] [History]
[Links - Bichon & Others] [Pedigree] [Pictures] [Reading]
[Rescue] [Search the Web] [Therapy Dogs]

You are visitor to this site since October 4, 1997.
Last update: Saturday, September 6, 1997
© 1997