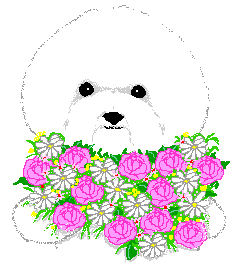 Bichon Frise
GuestBook
August 1997

From: Marcy (Not available)
Host/Computer: 206.183.79.96
Date: Fri Aug 15 11:20:54 1997My Adorable Bichon

In March of '96 we had to put my Poodle, Misty, to sleep. I had always had a dog, so it felt weird not having an animal around. I was 17 then. My -mom and I started looking around for another dog and we got ahold of the BFC of America Rescue Effort in Wisconsin (414) 878-4446. They told us of a recent rescue of puppy's from a puppy mill. These poor animals were only used for breeding. They never went outside and were never loved. They were mistreated and malnutritioned. We decide to look at these animals. My god!!!! As soon as a layed my eyes on them I was in love. They were way underweight. The females had lost nearly all their hair from malnutrition. They hudled together scared of the world. Then there were two groups of males. The active ones and the terrified ones. There was also one blind dog named sunshine. If I had the money I would have got him, too. At first we were looking at the active dogs, but as soon as I


---

From: Jim Duggan (jim_duggan@iacorp.com)
Host/Computer: 206.196.158.39
Date: Thu Aug 14 01:08:30 1997 bichon frise breeder wanted

Hello,

My wife and I are looking for a solid breeder located in the Chicagoland area. I myself grew up with a loveable Bichon name Ruffles! In my opinion they are the smartest most loveable dogs with a keen sense of personality. Please e-mail with reccomendations.


---

From: Kelly Robertson
Host/Computer: 152.163.204.137
Date: Wed Aug 13 15:12:02 1997BICHON FRISE

I HAVE HAD MY PUPPY, MISSY, FOR ALMOST THREE MONTHS! SHE IS NOW FOUR MONTHS OLD, AND SHE IS BECOMING MORE ATTRACTIVE EVERY DAY! I JUST WANTED TO ADD MY NAME TO YOUR GUESTBOOK AND TELL YOU THAT YOUR WEBPAGE IS REALLY GREAT!


---

From: Cindie (sivlothe@online.no)
Host/Computer: 130.67.225.56
Date: Tue Aug 12 10:29:37 1997Bessie

Hello! I'm a 17-year-old girl from Norway. I find Bichon Frisès admirable. They're really cute. At this time I'm not an owner of a Bichon Frisè, but I hope I someday will be. My uncle has a six-year-old Bichon Frisè named Bessie. She is a really sweet dog, and very cosy. Thanx for great pages! Love, Cindie...


---

From: Phred (phred@sirius.com)
Host/Computer: 205.134.245.179
Date: Sun Aug 10 01:02:54 1997Kate & Spencer

My children, my dogs. They are both nearly 2, from different breeders, but have grown up together. Spencer protects his little Katie. He's large for the breed--20 pounds and tall; Kate's smaller (but with a happy belly). Katie does a "double paw" greeting--very cute! Spencer is addicted to playing fetch--thinks he's a retriever. They often sleep curled up on each other or on us. Devoted to each other and to us, they are our constant companions. It's difficult to justify going on vacation, or even to play golf for a Saturday. We love to take them to the beach or Golden Gate Park for a good romp. Katie loves to cut and run in circles. Spencer's more of a circus dog, jumping and twisting, taunting Katie to chase him.

Bichons are the best!

Phred Huber


---

From: Wendy (pointsofview@earthlink.net)
Host/Computer: 153.34.171.189
Date: Sat Aug 9 13:42:53 1997

Our new "baby"

We just picked up our 7 year old Bichon "Breeze" at a local Humane Society. She had been abandoned by her former family because the children were tired of her and she was too much work! We were told that she was a poodle. She was a mess—1 1/2 inch long nails, filthy, so I suppose they couldn't initially figure out her breed. So today when we picked her up we were surprised to hear she was a Bichon. We said, "What's a Bichon?" You can imagine how thrilled we are to find ALL these sites dedicated to the breed. We feel so honored to be a part of this community and look forward to her years with us. Our 5 year old shepherd/springer "Babe" is now outside the temporary kennel guarding Breeze as she sleeps off the trama of the last week. All is well for the little one now. I am sure that as soon as they are completely comfortable with each other they will be best buddies for life!
---

From: Marlene (MamaK49)
Host/Computer: 152.163.195.135
Date: Thu Aug 7 04:09:28 1997Bichon-Simon

just tonight we acquired a 3 year old male-N- name Simon, gent at work, couldn't keep anymore due to no one home enough to pay attention to him. one works days, the other nights, not fair to Simon.first met him Monday, nippy at first, met in nuetral place to have simon come home with me to our busy,busy household, he went from quiet, to crazy, in car he was scared and nervous, we couldn't decide if we should put him in his kennel or not, decided not, 2 blocks away he quit the scared panting, 2 miles away, chin on crook of right arm, and another 4 miles, chin on my shoulder,I was very nervouus about home, persion cat, and golden retriever-13yrs old, would they all adjust?not to mention 2 teenagers, a tired hubby, and a 26 year old, home again, to go back to college. well, so far so good, so to all you good people, HELP, I've never had small dog, just had to put Newfoundland down, and hurting still, he seems to be the answer to a sad face, we laughed all night at him, but did he ever protest aboout his kennel at bedtime, he was kenneled way too much before, hope he handles his pottying alright, soon he can sleep with me, need all infoor I can get, please, please EMail me soon, thanks a bunch from Simon and Me!!


---

From: Nancy Hood (Nanhood@aol.com)
Host/Computer: 207.146.193.115
Date: Thu Aug 7 02:11:35 1997Springfield, Illinois Bichon wanted. Rescue is OK

I am looking for a breeder for a bichon frise rescue or new puppy. Any info would be helpful! Thank you!



---

From: Norine (the.phantom@greatid.com)
Host/Computer: 206.62.38.157
Date: Wed Aug 6 21:08:12 1997my wonderful dog Colonel Fluffy

Bichon's are the most lovable, communicative, responsive, caring pets a family could have. They are loyal, full of interesting personality traits like begging, smiling, kissing and just fun loving. I would actually like another Bichon and breed them. what advise do you have? Norine


---

From: Sandy Boring (sandy_boring@McKinsey.com)
Host/Computer: 204.149.83.2
Date: Wed Aug 6 17:17:51 1997Bichon Frise

Marley is 5 years old. She is very lovable and such a lap dog. She gets so excited when someone comes to the house she'll hyperventilate.
My son is 2 years old. He loves Marley but Marley isn't too crazy about him. She's ok when he has food to give but normally she'll growl at him and at times I have to put her in her crate. I give her alot of attention and love like I did before. Does anyone has this problem? I'm hoping they will eventually play together. Please send an E-mail to me.


---

From: Michele Bumbary (bumbarym@vfb23.mds.lmco.com)
Host/Computer: 192.91.146.35
Date: Sun Aug 3 22:43:53 1997I love my bichons

My bichons are 8 months and 6 months. Their names are Joe Joe and Zsa Zsa. My husband and I love them to death and look forward to many years of happiness with them.

At night, all four of us are constantly fighting for covers. Joe Joe likes to hog the covers and the pillows.

We started with Joe Joe...a very active puppy.... and decided to obtain Zsa Zsa.... a much calmer puppy. It was the best decision we ever made! We have found it better to have two dogs that can keep each other company , than to have one hyper-active dog.


---

From: Mary Alice Sprong (masprong/alt,com net)
Host/Computer: 207.76.192.136
Date: Sun Aug 3 21:46:07 1997My Falcor

Falcor will be two years sept 19 and is my baby
He was my only dog for about 1 year and was
way too hyper until I got another dog a Yorkie
named Casey. Now he is much calmer . He needed someone else with him during the day while I worked. He has a personality that won't
quit and has no bad habits except he talks back when scolded. Both of my boys sleep with me andI don't know what I would do without them. They get along famously and falcor lets casey
get away with a lot.


---

From: Shelby (Shelby@int.plrsv)
Host/Computer: 206.107.18.114
Date: Sat Aug 2 21:35:33 1997 Bichon Frise

I'm thirteen my sister is eleven. My family and I went to the Medford,OR mall where we found a pet store. We saw a Bichon Frise puppy. We fell in love with it! It was also 50$ off. But,it was still 699.oo I was wondering if that's the price they originally sell for? Someone tell me if that was a good deal. My parents wouldn't let us get it. We threw a fit for an hour, but it was adorable!


---

From: LAURA (CVONHOENE@AOL.COM)
Host/Computer: 152.172.7.171
Date: Sat Aug 2 21:07:08 1997 I LOVE BICHONS!!!!

I really enjoy reading about other bichons. I have two---Maggie and Elvis. They are both one year old and are the love of my life. Everyday when I come home from work, their wagging little tails and smiles make my whole day. Each has their own personality. This is a great web site!!!


---

From: karynl (kbkkil.@aol.com)
Host/Computer: 152.163.197.218
Date: Sat Aug 2 07:18:26 1997 bichon freis

I have been considering getting a bichon for over a year. I live in a one bedroom apartment. I would like to know if a bichon can adapt to apartment living. Also, I am looking for a good breeder in the bay area (northern California).


---

From: Erika Sinz (Sinz6@aol.com)
Host/Computer: 152.163.213.13
Date: Sat Aug 2 02:06:30 1997 Luv Bichons!

I got my first bichon when I was in sixth grade, I come from a family of six, and she was dearly loved by all of us. Tragically, she was hit by a car, on Easter morning no less. Schatzi was her name, she was always playful. She was less than one year old. We were all devastated. But, now we have Rosie, who we've had the pleasure of owning for four years. Though no dog could ever replace Schatzi, we love Rosie, but in a different way. Bichons are the best!


---

From: Barb B (BTKEA)
Host/Computer: 152.163.207.135
Date: Fri Aug 1 23:04:54 1997 Bichons

We lost our 7 yr. old Caspar last month. He ws obsessed by chocolate and managed tofind a bag of chips in the pantry, someone had left the door unlatched. We all hear that chocolate is bad for dogs but I had never heard the amount. It is 2 oz. for 2o pounds of weight. Well, he ate 5 oz. and went into cardiac arrest. He ws home with us for 7 hours before we noticed any thing worng. HE died at teh vet and our summer has been miserable. We were keeping our eye on him for side effects but none were apparent. If we had only known what to do. OF course now we know and just want to share it with others. You must get immediate care, baking chocolate is the worst. Our Caspar was a real dear. But I will say that I think the dog deserves a ome where the people are home alot. OUrs got lonesome and loved company. He also lived to be walked and when it did not come on time he would spot(wet) somewher in teh house. HE was trained but he knew how to get back at people. He was also very stubborn and we never could crate train him, he had to sleep in one of my daughters rooms. Yes we tried, but even our trainer advised me to give up. He would cry all night. He was stubborn but a cutey. RIP Caspar



[Home Page] [AKC] [AKC Registrations] [AKC Standard]
[Bichon Note Cards] [Bichon Clubs] [FAQ] [History]
[Links - Bichon & Others] [Pedigree] [Pictures] [Reading]
[Rescue] [Search the Web] [Therapy Dogs]

You are visitor to this site since October 4, 1997.
Last update: Saturday, September 6, 1997
© 1997