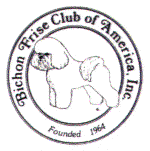 Official Website for
The Bichon Frise Club of America, Inc.
Member of the American Kennel Club
Frequently Asked Questions
Table of Contents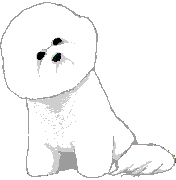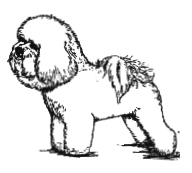 The Bichon Frise is a white powder puff of a dog with black eyes, eye rims and halos, lips, nose, and footpads. As puppies, some Bichons have beige to apricot markings on the head or body, but this color usually fades during maturity. Since the Bichon's coat is white, an older dog does not look old because there is no graying of the muzzle. The adult dog is sturdy and muscular and of moderate bone. His height at the withers (top of the shoulder blade) is 9 1/2 to 11 1/2 inches and he weighs 10 to 18 lbs. depending on substance. His coat is naturally curly, but when brushed and scissored in the proper style, it is like velvet plush.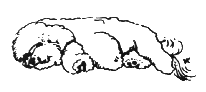 The Bichon Frise is an affectionate, lively companion dog who gets along well with other animals and with children. He prefers to spend all of his time with his family. He is intelligent and outgoing, and he loves to play and clown around, but he is not nervous. Although not a guard dog, he is a watchdog who announces strangers.

The Bichon has a non-shedding coat and therefore he maybe suitable for those with moderate allergies. Before you commit yourself to any pet, it is best to spend several hours at a breeder's home to test your allergic response. Dog shampoos and rinses are frequently scented and may cause an allergic response.

A commercial dry kibble forms the basic diet of the Bichon. This may be supplemented with meat, cottage cheese, some table scraps (no chicken or pork bones, please), or canned dog food. Fresh water must be available at all times.

The Bichon is easily trained using the standard obedience commands. Housetraining is not difficult provided you follow instructions and set aside some time to do it right. To learn more about house training, please read "Your Bichon Frise" listed on the Club Supplies web page.

Veterinary care consists of the usual immunizations and perhaps a worming when worms are present. The breed is generally healthy. Additional information see topic on Bichon health.

The average life span is 15-16 years, but many dogs live several years beyond this.


Grooming the Bichon is imperative whether you do it yourself or have it done professionally. Since the coat does not shed, it mats and must be brushed frequently. "Frise" means curly in French. The natural is long and curly, and the Bichon look is created by brushing the curl out while drying the coat. The dog is then scissored all over except for the ears, moustache, beard, and tail.


The Bichon Frise is of Mediterranean ancestry. He descends from the Barbet or Water Spaniel and is related to the Maltese. Bichons have been a distinct breed since about 1400. A few Bichons came to the United States in the 1950s, and the Bichon Frise Club of America was founded in 1964. The American Kennel Club officially recognized the breed in 1973.

There are breeders all over the United States who belong to the Bichon Frise Club of America or a local Bichon Club whose aim it is to protect the breed by producing Bichons which closely conform to the standard. The standard is a description of the most perfect Bichon Frise as adopted by the American Kennel Club. A list of breeders is available from the Bichon Frise Club of America's Breeder Referral person. For other sources, contact your local Kennel Club or Bichon breeders at a dog show.

You may be captivated by a puppy in a pet shop, and although it has all the proper "papers" and its parents are purebred Bichons, you will never be able to evaluate the puppy's parents nor do you know anything about the puppy's upbringing. Did the parents looks conform to the standard and was their temperament cheerful and outgoing? How early was the puppy taken away from its mother? Was it brought up in a family atmosphere or in a kennel without much human companionship? Additional questions you should ask the breeder when purchasing a Bichon are. How long have you been breeding? Where did you get your original breeding stock? Do you CERF/OFA? Do you belong to any breed clubs? Will I receive a written contract? Why not rely on a breeder whose aim is to produce beautiful Bichons through intelligently planned and researched breedings and who guards their wonderful temperament.

All showdogs are someone's pet, but not all pets are showdogs. Dogs are measured against the standard, the ideal wordpicture of a Bichon. If the dog does not closely conform to this standard, he is considered a "pet", even though he is from a litter bred for show. Pets may not have complete eyerims or halos, the proper kind of bite, or are too small or too large. Even if you do not intend to show your Bichon at dog shows, you should get a quality animal.

In some breeds male dogs may be aggressive and females more subdued, but there is no such distinction in the Bichon. However, males of any breed make frequent stops during walks and females have a biannual season. Spaying will solve the latter problem. Neutering is recommended for any Bichon who is a "pet", whether male or female. No, they do not have to be bred once before being neutered.

The Bichon Frise Club of America, Inc. has published an illustrated booklet entitled "Your Bichon Frise" which will give you much more information about the care, training, and history of the breed. The official standard for the breed as well as detailed grooming instructions are also included. Please order your copy from Charolotte Moellenbeck, BFCA Club Supplies, 36 Wilderness Gate Rd., Santa Fe, NM 87501. The fee is $6 made payable by check in US funds to the BFCA. $1.00 of this fee is donated towards Bichon Health Research.


You are visitor number since February 10, 1997.

Last update: Friday, July 10, 1998

BFCA Webmaster Janice Sheehy Janice@BichonFrise.org

© 1998, All Rights Reserved
The Bichon Frise gif images are the sole property of Kiyomi Ochiai or BFCA. Ms. Ochiai's gif images are used on this website with her express written permission and may NOT be copied from this site. The other gif images are the property of BFCA and may NOT be copied from this website.

The artwork is provided thanks to the following artists:
Virginia Kolence
Candi Ayres Phillips
Kiyomi Ochiai, Japan