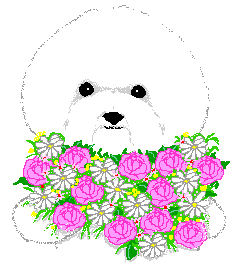 Bichon Frise
GuestBook
July 1997




From: Kara Chaney
Host/Computer: 208.133.153.92
Date: Wed Jul 30 21:05:24 1997 My dream will soon become a reality.

I am an aspiring Bichon owner. I am 19 soon and my mother asked me what I wanted for my birthday. I quickly responded with a gleeful " A Bichon Frise!" I have adored the pictures of this breed of dog for awhile now. I look forward to owning one of my very own. Your page is wonderful and very informative! Thanks for taking the time to create one!! Best Wishes!


---

From: Kathleen (patmacfar@aol.com)
Host/Computer: 152.163.213.147
Date: Mon Jul 28 16:13:41 1997 My Bichon Frise: Mollie

We adopted Mollie, our 4 year old Bichon, as a
puppy and she has provided our family with lots
of love and laughs. She is the sweetest little
dog. There are LOTS of kids in my family and
Mollie is wonderful with all of them. The little
ones pull on her hair, wrestle with her, chase her
and Mollie never gets nasty with them. She is a
little mischeivous from time to time (she has a
paper fettish and loves to get TP and Kleenex out
of the bathroom) but other than that she is wonderful.
Even when she does get in trouble, she's so cute
it's hard to be mad at her for long. She is a
loving, sweet little dog and I can't imagine a
better friend.


---

From: Diane (jbigos@myhost.com)
Host/Computer: 207.94.169.137
Date: Sun Jul 27 19:48:45 1997 Help with matting

I have a 11 month old Bichon, Penny. She is the greatest dog you could ever want, she is a clown and the light of our life. We have a problem with matting, she is groomed once a month and brushed often but the mats keep coming. If anyone could give us suggestings on matting it would be appericated. I was told by my groomer that when the adult coat is in the matting should not be a problem. When willl this happen? Will matting ever end for Penny, She hopes so.


---

From: (SurferGl00)
Host/Computer: 152.163.213.5
Date: Sun Jul 27 17:13:30 1997 Breeders

This letter is to all the Breeders in the SouthEast area in P.A. and South N.J. area. If you are beeding two pure Bichon Frise dogs and are going to be selling them. Please E-Mail me at SurferGl00. Thank You


---

From: Cindy (Landerer@sprintmail.com)
Host/Computer: 206.133.14.39
Date: Fri Jul 25 11:30:36 1997

lCandice and Jasmine

Just found this wonderful page of Bichon owners and I think this is a fantastic resource. We had two Bichons, Candice and Jasmine, and last Thursday Candice was killed. She was 2 years old and decided to run out the front door when my daughter was going out. Needless to say, the truck survived and she didn't. We have lost one of our children (or so it seems). Jasmine seems lost without her co-conspirator.
A word to any new Bichon owners: these dogs become give more love than any pet we have EVER loved! We do have good news though. We may be getting a cousin of Candice (newly hatched) in a little more than a month!
Thank you for listening, I know all of you so dearly attached to your Bichons would understand our grief.


---

From: Marg and Terry (painter@ihug.co.nz)
Host/Computer: 207.214.13.215
Date: Fri Jul 25 06:19:18 1997

Our Baby ******* Dudlee********

Our dog Dudlee came into our lives as a dog, and now thinks he's a human. We started with great intentions with having him sleep in the laundry, but NO WAY was he sleeping here, he now sleeps in, on or under our bed. Other people dont seem to understand? He does do dog things like digging holes, burying shoes and eating knickers, will he ever grow out of this????
We cant imagine life without him!!!



---

From: stephanie
Host/Computer: 203.120.90.50
Date: Fri Jul 25 00:20:47 1997 bichon frise

i have a 3-year old bichon named Stacy. Every morning, she makes it a point to wake my dad up at 3 or 4 pm, and she greets me and gives me a lick every time i get home. She may get up to mischeif some times but always gets forgiven just by the guilty look on her face. i just love her to bits and i'm sure fellow bichon owners feel the same way. i wish all bichons a long and happy life with their owners. take good care of your bichons now, bye.


---

From: judy (everdy@webtv.net)
Host/Computer: 207.79.35.32
Date: Thu Jul 24 19:33:27 1997 bichon

I just found this page. It is wonderful. We own a
9 month old bichon named Muffin. She is the cutest
thing. She likes to get in to mischief. She just loves to be loved. She thinks she is a princess.
She's not an outside dog but she does love the car.





---

From: Megan Jones (mjones7@wvu.edu)
Host/Computer: 157.182.142.51
Date: Thu Jul 24 09:49:49 1997 My Bichon, Daphne

My mom and i bought Daphne about two years ago. We were weary about getting another dog because we gave up a Siberian Husky not that long before. The dog was just too lively for our small house, and it really made my mom sad. Anyway, Daphne is the best dog in the world. She acts just like a person. She is litter pan trained (with old paper in the litter pan because she eats actual cat litter). She is a small bichon, which made the litter pan training possible. It was very simple because we rewarded her every time for using the pan (although we must almost always do this, even today). She doesn't hardly know how to be outside. She's a very loving and happy dog. I would warn, though, that bichons can have a number of allergies and skin problems. Daphne has just about every single one. She's allergic to beef, fish, potatoes, etc. She can only eat lamb and rice (expensive) food. She gets blackish-brown blotches on her skin from allergies which can only be seen when her fur is wet from bathing. Other than that, she is the perfect dog, and I would highly recommend getting one to any type of person.


---

From: TWallace (twallace@btg.com)
Host/Computer: 199.29.53.158
Date: Thu Jul 24 09:23:35 1997 Any words of advice?? I will soon be adopting

I have never had a pet, and have made the decision to adopt a Bichon. I have 2 children (10&8) who have been dying to get a dog. After research, we chose the Bichon. A rescuer has put us in touch with a 5 year old who has had 3 litters of pups already. Can anyone shed any light on any thing that I should consider before we adopt her???? I am going to meet with her in two days and if all goes well I am very excited about bringing her home with us. Although, I am a little nervous because we have never had a pet before. Any words of wisdom?? Can anyone think of some questions I should discuss with the current owner? Thanks for any help you all can provide. twallace



---

From: Ray & Kathy Killian (Killian2@nwohio.com)
Host/Computer: 209.4.72.5
Date: Tue Jul 22 20:04:33 1997 Our Bichon

We have a 18 month old bichon named Princess and she just had her 1st litter of pups 5 of them. She brings much happiness into our family. She is dearly loved!!



---

From: Mary McCullough (funnyfarm@innernet.net)
Host/Computer: 207.121.52.152
Date: Tue Jul 22 17:31:44 1997 How do I intoduce my puppy to other dogs???

I did not realize I was causing my precious puppy trauma when I put her down and another puppy chased her. Since then, she is afraid of other dogs/cats. Is there ANYTHING I can do to help her over this awful experience? I would appreciate any help!



---

From: gYMO
Host/Computer: 195.100.145.46
Date: Wed Jul 23 21:40:35 1997 Bichons are niice dogs

Wanna see some nice bichons http://www.algonet.se/~dallmann


---

From: Lois (Hilo21122@AOL.com)
Host/Computer: 152.163.195.29
Date: Wed Jul 23 10:53:36 1997 bichon frise

Thinking of getting a BF puppy. Recently lost our beagle to his straying. Looking for a dog that does well with children (ages
4 and 7). We want a dog that doesn't want to run away. Actually one who hates going outside! (Beagle was hit by car). We want something small
so we can take it places with us and it will want to stay around us and not run off.
Is a BF for me?



---

From: Donna Jones (556503@ican.net)
Host/Computer: 206.248.87.113
Date: Sun Jul 20 20:20:44 1997 BF-List

I was introduced to the list while searching the net for a dedicated and experienced breeder to allow me to adopt one of their pups. I found my breeder (Norma Dirszowsky of Normandy Bichons in Udora, Ontario) and I adopted my Gats and life is wonderful.
So much compassion on this list and so much help...... I have grown to think of "my list members" as family. What a wonderful way to shrink the world.



---

From: Nicole
Host/Computer: 152.163.205.88
Date: Sun Jul 20 13:27:52 1997 bichon frise

I have a 3 month old bichon, and I just love him to bits. I wanted a dog that didnt shed, because our Cockapoo sheds like crazy and we didnt want our house full of furr.


---

From: Joyce & Jim Spalla (Allaps@aol.com)
Host/Computer: 152.163.207.85
Date: Sat Jul 19 16:08:30 1997

bichon frise

We just love our two year old Bichon, Minnie. My husband is alergic to dogs, so this is the only one we could have. We just love her. It's like having a kid. She is so playful and happy. When we're sad we just look at out Minnie. She has these two Daschand dogs she plays with, and cries when they walk past our house and don't stop. Like the web page.


---

From: Roger Davidson (rdavidson@cnwl.igs.net)
Host/Computer: 206.248.47.60
Date: Sat Jul 19 01:47:50 1997

Our Bichon : Kiwi

My wife and I have had the pure pleasure of owning Kiwi ( real name " Endeavour's Night Song " ) for eight years now. She has brought us undiluted pleasure and total loving commitment, along with a lively sens of humour and just plain intelligence.
I felt compelled to reiterate something I'd read from a previous owner : the Bichon tends to bring out the best in people. It is a magical little person.


---

From: Kaylene Peaker (N/A)
Host/Computer: 203.61.173.9
Date: Fri Jul 18 09:08:15 1997 Kismet Champers

Our family has had our bichon for 6 years and we love him very much. Even though he is very lazy he is a great guard dog. it is good to see all this information about these excellent dogs.


---

From: Ivy Duke (ivy.duke@calvertgroup.com)
Host/Computer: 208.208.194.253
Date: Mon Jul 14 15:56:59 1997 Glad to have a resource for my Bichon, "Coconut"

My husband and I just "fell in love with" (the word purchase does not reflect the level of commitment and love we have) with a 14 week old Bichon we have named "Coconut." I had been researching this breed for months and as soon as I knew Coconut would be ours, I joined your group.

I really enjoy your discussions and have found many of them to apply to our little Coconut even at this early stage in his life (i.e., being a lap dog with a tremendous desire to give kisses, and definitely the "bichon blitz"). I even look forward to when he is older and begins to raid pocketbooks, suitcases and trash cans as you all promise will happen. He is just so cute, you can't get mad at him!!!!!

So far, my membership has been a one-way street with me learning from your experiences (and I look forward to continuing this learning process), but perhaps one day I can too offer a helpful suggestion to someone.

I will try to join in on the Sunday chat. Nonetheless, I would also like to meet some of the other Bichon owners in the MD/DC/VA area. If interested, please feel free to drop me a note.

Ivy


---

From: Michael & Susie White (copro@ozemail.com.au)
Host/Computer: 203.108.18.58
Date: Sun Jul 13 01:19:25 1997 The angelic interconnectedness.

Janice,
Susie & I found this list when searching for some solutions to Mandy's scratching and haven't been able to leave the site since that time. The observation of numerous angelic acts by members of the group have been supplemented by our deepening affection for both the breed and the people who are owned by them.
I have never known anything like a Bichon to bring out the best in people.


---

From: Marypat (djmpj@aol.com)
Host/Computer: 152.163.205.25
Date: Sat Jul 12 23:31:58 1997 For the Love of Bichons

I fell in love with Bichon's on Kiyomi's web page. Then I got my own (Pal, 4mos old). Now I read the member's e mails like they are the bible. I have learned so much. I wish I had known all Janice's tips before I got my white fluff. I just can't say enough about the compassion of the mebers and their willingness to help us "newbies". I totally enjoy everything you put together, Janice!


---

From: Evelyn & Bill Whims (evnbilw@primenet.com)
Host/Computer: 207.218.19.161
Date: Sat Jul 12 10:37:55 1997 The Bichon Frise list

The list has become a part of our daily lives. We look forward to reading the messages and responding when appropriate. It has become a source of knowledge and pleasure. Thank you Janice, Norma, Derek, Kiyomi and anyone else who has assisted in this great list.


---

From: Cathy Higgins (bhiggins@worldnet.att.net)
Host/Computer: 207.146.188.40
Date: Sat Jul 12 09:08:57 1997 Thank you soooo Much

Janice, thank you so much for paving the way for so many lovely people to get together. It is quite amazing how the fluffs we have in commom have brought together so many wonderful people from around the world. So often people roll their eyes when I want to tell them about my Hamlet, or now when I mention what I heard on the list. But I know all of you understand and will listen and most likely relate... Where else would a group give so much love and support to someone from the other side of the world who needs our love and prayers? I admire you and Steve for the enormous love and ability for caring you both obviously possess. You put into action what many people would just talk about.

Regards, Cathy


---

From: Theresa Fernandez (gilnteri@earthlink.net)
Host/Computer: 38.11.199.3
Date: Sat Jul 12 00:24:53 1997 Wonderful place on the net!

I have really enjoyed the list and touched by all the thoughtful and caring people that are owned by Bichons!


---

From: Dick Cooper (cooper@muskoka.com)
Host/Computer: 199.212.175.34
Date: Fri Jul 11 22:58:47 1997 Love It!

There just cannot be a more caring and sharing group of human beings than on this List.
Love your page and Message idea.
Regards, Dick


---

From: Joyous to be my dogs mom (gavent@usit.net)
Host/Computer: 204.194.172.56
Date: Fri Jul 11 22:57:06 1997 Janice's genius and love for the beautiful Bichon

"Genius is the ability to act rightly without precedent--the power to do the right thing the first time."--Elbert Hubbard

Yes, Janice, you qualify!!!!!!!!!
most kindly,
g.


---

From: Brenda Robinson (Brenda515@aol.com)
Host/Computer: 152.163.197.35
Date: Fri Jul 11 06:37:49 1997 Bichon camaraderie

as of June/July 1997 I am a new member of the List, with my 14 yr old blind Lucy and 4 yr old (rescued 7 mos ago) Houdini. I tell my friends in Florida about the wonderful caring people on the Bichon-L and stories like Kiyomi's. It's caused more goosebumps and happy smiles than you can imagine! Eeerrr, no, I bet you CAN imagine! I am SO tickled to have found a place with so many great Bichon lovers and so much talent and love for one another and our very special furpersons.
Thanks to all of


---

From: Debbi Hirsch (Debbi228@aol.com)
Host/Computer: 152.163.197.35
Date: Date: Sat Jul 12 09:49:00 1997 We Love This List!

Ever since we found you guys, I have been glued to the monitor and my Chloe now naps under the desk. Here's hoping that AOL gets it together so that Chloe and I can read and post in a more timely manner. It's nice to know that there are others out there who are crazy in love with their babies!


---

From: Sandra J Madia (marquise@westworld.com)
Host/Computer: 207.213.6.8
Date: Sat Jul 12 01:45:43 1997 BF-L List

Janice: You and your assistants and Steve have put a discussion list out that serves hundreds of warm, loving and caring people. The list itself is contantly in motion and always current in the postings..an unbelievable accomplishment!! Even during these most difficult and stressful days with Kiyomi's challenges, you have not allowed any interruptions or delays for the ongoing list members communication. I don't usually post, just read and learn, but th opportunity to praise this lists'virtues was irresistable. Great Job list officers-monitors-members. From California to England to Australia to Canada to New Zealand to ??.


---

From: Fern Church (Fern@nut-n-but.net)
Host/Computer: 205.161.239.106
Date: Fri Jul 11 22:55:56 1997 BF-L List

I can't begin to tell you what this list has meant to me. Since I lost my husband last year the evenings have been very long, and finding this list and all these wonderful, caring people has made my life much happier. Like Brenda, when I tell people how wonderful you all are they hardly believe me.


---

From: Janice (Janice@BichonFrise.com)
Host/Computer: 204.31.231.208
Date: Thu Jul 10 02:21:40 1997 Bichon Frise GuestBook

Welcome to the Bichon Frise GuestBook.... Please add your comments. Thanks, Janice



[Home Page] [AKC] [AKC Registrations] [AKC Standard]
[Bichon Note Cards] [Bichon Clubs] [FAQ] [History]
[Links - Bichon & Others] [Pedigree] [Pictures] [Reading]
[Rescue] [Search the Web] [Therapy Dogs]

You are visitor to this site since October 4, 1997.
Last update: Tuesday, August 19, 1997
© 1997