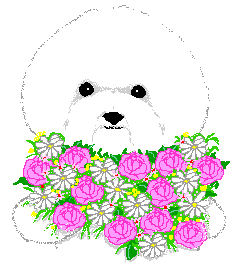 Bichon Frise
GuestBook
October 16 - 30 1997
---
From: Thresa (dowfresa@microsoft.com)
Host/Computer: 153.35.139.237
Date: Thu Oct 30 21:44:08 1997
I love my Bichon!!
My little man Max will be a year old next week, and he has brought tons of fun to our household. I can't imagine what we did before he adopted us! The potty hasn't been as bad as some, but he learns everything else very fast with a food motivator (liver is his fav!)
The Bichon Buzz is a continuous source of laughter for our 3 teenage daughters.
I am asking Santa for a playmate for Max this Christmas!!
Thresa

---
From: micnik99 (micnik99@aol.com)
Host/Computer: 152.163.197.36
Date: Wed Oct 29 22:10:54 1997
allergies
does any one else have problems with allergies and the dog tearing at the fur?? my 1 year old bichon, snuggles , has himself raw. this web site has helped immensely about keeping him trimmed . thanks mic

---
From: peter berrett (pberrett@tbsa.com.au)
Host/Computer: 203.12.227.17
Date: Wed Oct 29 17:41:34 1997
bichons- what else!
Hi
I have two Bichon x Maltese females and they are just great. Two is better than one because they have each other's company when you are not around. I find that my dogs roll on their backs and paw at the sky (they want tummy rubs) a lot.
I can recommend this breed of dog to anyone looking for a cheerful playful happy affectionate companion. Toilet training takes a long time but they eventually learn. The eyes need a little extra care as does the coat which can matt quite easily.
I have had several dogs (fox terrier, corgi x daschund and one one unknown breed) and my Bichon crosses are definently the best I've had so far.
cheers Peter

---
From: Sharon (gwaller@cafesnet)
Host/Computer: 207.79.35.27
Date: Tue Oct 28 15:11:28 1997
housebreaking
My bichon will be 6 years in December, and he has
only recently jumped upand down and barked to go
out. Inside has always been his favorite spot.
not unusual for this breed. be patient. takes a long time-sometimes, never!

---
From: Ruth (NDiffenbau@aol.com)
Host/Computer: 151.188.111.98
Date: Mon Oct 27 15:05:32 1997
Adopting a Bichon - Potty Training
I have never wanted to adopt a certain breed of dog as much as I have wanted a Bichon. I am extremely worried about potty training, since in my pre-Bichon days, I continue to read and hear of the Bichon's only fault. Why would a certain breed be difficult to potty train? I've only known of dogs who were old who have had that difficulty. Do Bichons have a kidney problem or a problem with their sense of smell? Why would a dog profer to soil its home rather than go outside? Thank you very much.

---
From: nancy (tyoung@peterboro.net)
Host/Computer: 209.29.194.73
Date: Sun Oct 26 11:25:27 1997
bichon - feet stains
Just found this great site! We have an adorable 18 mo old female bichon. Read about the training problems - hang in there. We found Chelsea was almost a year old before she really became dependable - I found it helpful to schedule a walk in the morning and early evening and she routinely goes them, with an occasional trip out at other times. Does anyone know about stains on their feet? I've been told its blood platelets (sp?) in their saliva. I feed her Nutra lamb and rice. Several people throught it might be allergies or nervous licking. I tried prednasone for a short time and no difference, so took her off of it. I'd appreciate any help anyone can give me. Othere than the stains - she's perfect!

---
From: Liz (velvet@cheerful.com)
Host/Computer: 208.212.178.94
Date: Thu Oct 23 10:57:53 1997
My adorable Dusti
HI!!!... I too have a wonderful little Bichon.. named Dusti!!.. You can view her picture at http://members.tripod.com/~Soft_Velvet/dusti.jpg .. I don't have too much trouble with her having accidents inside.. she is pretty good about letting me know it is time to go out.. she STARES at me until I get the message!! ... Dusti is so very special to me.. I love her with all my heart and so does everyone that meets her.. *SMILE*.. The only disagreement my ex-husband and I had during settlement..... was WHO gets Dusti... of course I won!!!.. She is registered to me!! .. She was the very best investment I ever made.. *SMILE*

---
From: Marsha (frank@buffnet.net)
Host/Computer: 205.246.19.129
Date: Wed Oct 22 23:17:17 1997
rescue
4 years ago, we thought we going to get a small mixed breed pup. we ended up helping down a puppy mill and we ended up with a pup that everyone refers to as a BF. what a dellight. Can we introduce another BF to keep her company or don't they like company?

---
From: mericat (mericat@ix.netcom.com)
Host/Computer: 205.184.170.48
Date: Wed Oct 22 23:06:10 1997
'accidents'
This is a message for all the people wondering what to do about housebreaking. My suggestion is to buy several cans of carpet cleaner and some rags and just clean up right away. When you gotta go, you gotta go. For the people who have Bichons and their spouses or boyfriends don't like the dog, be on your guard. People who don't like Bichons must have something wrong with them. Don't let the person hurt your precious dog, even if the dog does have an accident or two.

---
From: Betty (abutt@idirect.com)
Host/Computer: 207.136.80.190
Date: Sat Oct 18 19:31:34 1997
Our Bichon
Hi, we own a bichon too! He is four years old! His
name is Duke. Duke is a joy to have around. My husband didn't really like him at first, but now
he is more attached to the dog than me? HA,HA,HA!
We love our Bichon, I would have a house full of them if I had a bit more room. BYE!

---
From: Sharon (gwaller@cafes.net)
Host/Computer: 207.65.182.145
Date: Sat Oct 18 02:13:27 1997
Bichons
I'm so excited to get to read about other people who love their Bichon babies. This is my second Bichon and there isn't a sweeter, more precious dog in the world in my opinion. My ONLY problem is with housebreaking. My first Bichon was a problem that we never mastered and this one is a problem too and he is three years old. I tried all of the vet's suggestions and still had limited success. I am comforted to hear that other's have had some problems too. Oh well, he's worth it. My children refer to him as their "hairy brother". Please send me an email if you have any tricks that I can still try with housebreaking at this late stage in the game. I will really appreciate any input.

---
From: Diane Woods (db12030@deere.com)
Host/Computer: 207.122.201.66
Date: Fri Oct 17 17:02:52 1997
bichon friese
I own 2 female bichons (Murphy 2 yrs. old and Maddy 1 yr). Murphy is the better bichon, but Maddy is the better dog. Anyone out there know what I mean?!?!?!? Anyway, they are the light of our lives. My husband used to say he hated dogs, but at night now he asks who wants to go to bed with him, and he is talking to the dogs, not me! Oh well.
Soon I hope to get pictures of them on a home page. I've had dogs all my life, but these 2 are absolutely the best. No shedding, very little barking, small dogs, play with each other constantly....perfect little angels. Unless, of course, I'm eating popcorn...in which case they turn into "animals" and will not leave me alone. I guess a little popcorn doesn't hurt!

---
From: WANDA (FDoug51890)
Host/Computer: 152.163.206.218
Date: Fri Oct 17 00:18:59 1997
BICHON"S
CAN'T BELIEVE I FOUND OTHER BICHON
LOVERS. I HAVE A 4 YEAR OLD NAMED KIKI
SHE'S THE LIGHT OF MY LIFE. GUESS I'M ONE OF THOSE PEOPLE WHO IS OWNED BY THEIR BICHON. I LEARNED A TECHNIQUE OF POTTY TRAINING I WILL BE MORE THAN HAPPY TO SHARE WITH ANYONE WHO IS INTERESTED. JUST E'MAIL ME AT FDoug51890 AND I'LL SHARE IT WITH YOU.
I ENJOY SHARING TALK OF THESE PRECIOUS LITTLE DOGS, AND HOPE TO READ MORE, PERSONAL MESSAGES.

---
From: Debbie Goff (debgoff@concentric.net)
Host/Computer: 206.83.82.45
Date: Thu Oct 16 21:33:11 1997
Countess Zoe de Cologne
Hi! I am so excited to find this site. It's such a joy to finally read how much other people love their Bichons as I have found mine to be such a joy. Her name is Zoe and she is a little over 2 years old now. I got her exactly 2 years ago and drove 14 hours in one day to get her and bring her back home. She is such a dear to me. She has 3 Bichon Cousins that live in Pittsburgh (she lives in Mobile, AL with me) that she absolutely adores. To me, there couldn't be a more perfect dog than Zoe, even with her tear stains that get me annoyed and frustrated. She loves to sit on the bed in the front room and survey her "domain" out the window. I can see her sitting there when I pull into the driveway and then up she gets, and she jumps off the bed, races down the hall into the kitchen and around the corner to the laundry room door where she wines until I can unlock the door and greet her. I just can't imagine not coming home to that.

---
From: Jennyfer Deister (Chowcrazy1@aol.com)
Host/Computer: 152.163.213.218
Date: Thu Oct 16 11:31:55 1997
I'M GETTING A BICHON!!!
I am a fifteen year old dog lover. I had my first dog at age thirteen, however, she was a chow chow, and she didn't really fit our lifestyle. We live in a mobile home, and for a while, the weight limit was ok and she squeezed in, but she started to get into trouble and to kick her out, the manager lowered the weight limit. In June we finally sent her back to the rescue where we had gotten her. Since then, I have been researching dogs that would do well with allergies and athsma.
We don't like poodles, but when I pointed out the Bichon to my mom, she fell in love with the dog right away.
I might need some help finding a rescue bichon. I live in San Jose, Ca. We already know about a bichon club in Sacramento, but if you know of a rescue within a reasonable drive ( such as northern Ca, southern Ca, Nevada, Arizona ) I would greatly appreciate your help.
Jennyfer Deister

---
From: Julianne (julianne.colingridge@health.gov.au)
Host/Computer: 165.12.252.10
Date: Thu Oct 16 02:26:44 1997
Joyous BJ
8 weeks ago, I adopted an 18 mth old Bichon from the RSPCA! How lucky for us both. He's not a pedigree due to the spots of grey on his skin I think, but he has the main characteristics: white (mostly), halo, dark eyes, curly tail, great temperament, agility and personality plus. He loves to balance and bounce a light large ball on his nose! He doesn't ever make any noise except an occasional bark -is this common? He never whines, wimpers, or cries. He sleeps with me and I am delighted with him


[Home Page]
[AKC]
[AKC Registrations]
[AKC Standard]
[Bichon Note Cards]
[Bichon Clubs]
[FAQ]
[History]
[Links - Bichon & Others]
[Pedigree]
[Pictures]
[Reading]
[Rescue]
[Search the Web]
[Therapy Dogs]

You are visitor to this site since November 14, 1997.
Last update: Friday, November 14, 1997
© 1997 All Rights Reserved