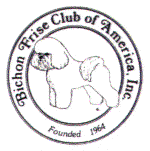 Official Website for
The Bichon Frise Club of America, Inc.
Member of the American Kennel Club
Bichons Looking for Love
Volunteer to Help the Bichon Rescue Effort
If you do not have the time and ability to provide a permanent home for a Bichon rescue, there are numerous other ways to help the Bichon Rescue Effort:


Monetary Donations: The Bichon Frise Rescue Effort is an all-volunteer program. Therefore, financial support is imperative. Some of the costs incurred in the rescue effort are: initial veterinary care expenses(including medication expenses), grooming costs, spay/neuter expenses, boarding and food expenses, on-going veterinary expenses, expense for crates, collars, leads, and food/water bowls, transportation costs, etc. While donations are received from new owners adopting rescued Bichons, these do not cover all the costs of the effort. For example, the specific costs associated with a particular dog may exceed the donation received and funds are expended on dogs that may not be ultimately placeable.


If you want to make a donation (and maybe you could plan on making annual donations), make it payable to: Bichon Frise Club of America Rescue (or BFCA Rescue)
Send to: Laura Fox-Meachen
1309 63rd Drive
Union Grove, WI 53182
(414) 878-4446
Remember, every little bit helps!
Foster Home: Although you may not be able to provide a permanent home for a rescued Bichon, maybe you could provide a foster home. After a dog is rescued and determined placeable, then during the time the Rescue Representative is waiting on a prospective owner and screening, the dog may need a foster home. This could be a matter of days, weeks or months. It is hoped that you would be able to provide food and care for the dog including grooming. In some instances, if there were limited rescue funds, it is hoped that you might be able to provide some veterinary care, if required.


Donations of Crates, Crate Pads, Collars, Leads, Food/Water Bowls, etc.: These are some of the items that are needed in the rescue effort. You could donate new or used (in reasonably good condition) items and bring or send them to a regional Rescue Representative.


Donations of Time/Talent: Rescue Representatives can always use an extra pair of hands. You could assist a Representative by helping to pick-up and transport a dog that is being rescued or help wash and groom (some times this may mean "shave") a rescue. Maybe you could transport a dog to and from a veterinarian, or pick up a dog from the airport. If you have any training experience, you could help train a rescue before it is placed.


Educate Yourself And Others: Learn as much as you can about the Bichon and tell anyone and everyone the truth about the breed. Inform others that while the Bichon is a wonderful dog, it is not a breed for everyone. The Bichon requires an owner to be committed to providing more time and financial resources than other breeds. Inform others of the time and expense associated with grooming. Inform them of the personal attention that this breed demands. Inform them that they should be prepared to take more time and work harder in housebreaking. Insist that they wait (however long it may take) to obtain a dog from a reputable breeder who has had the sire and dam screened for health/genetic problems. Insist that they do not ever purchase a puppy from a puppy mill, broker or pet store. Tell them that a broker may even have an adult male and/or female on the premises which is just a "front" for selling puppies that the broker has bought elsewhere. Insist that they do as much research and perform as many "checks" as they can about a breeder from which they may be contemplating obtaining a puppy. Tell them never, never, never, never get in a hurry to obtain a Bichon (or any dog for that matter). Of course, if they think they may be a "special" person, suggest that they might consider making a home for a rescue.


You are visitor number since January 2, 1998.

Last update: Friday, January 2, 1998
© 1998, All Rights Reserved

BFCA Webmaster Janice Sheehy Janice@BichonFrise.com