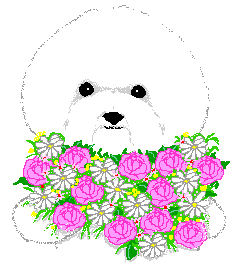 Bichon Frise
GuestBook
September 1 - 15 1997
---

From: Kristi (AHTerrier@aol.com)
Host/Computer: 152.163.206.105
Date: Mon Sep 15 16:19:59 1997

Allergy sufferers & Bichons

Hi! I love this web site. It's wonderful!I have had a link to this page on my "Allergic to Dogs?" page since I first published the site. I wonder if any of you Bichon owners would like a post a message on my dog allergy page's message board about your experiencies dealing with allergies and owning a Bichon. I am always looking for info about dogs and human pet allergies. The url of my "Allergic to Dogs?" page is http://members.aol.com/AHTerrier/allergies.html



---

From: Shirley Golofski (SDGolofski@aol.com)
Host/Computer: 152.163.207.37
Date: Sun Sep 14 18:39:18 1997

Potty training

I absolutely love my boys. I have 2 bichons. Anthony
and Sam. They are brothers. I bought Sam in February
1993. My husband suggested this breed to me. I didn't
want another dog. I had lost my beloved poodle 1-1/2
years earlier. He was only 7 years old. He was a
product of bad breeding, which I didn't know when I
bought him. Enough of that!

About the boys. I went back in July and bought Sam's
brother. I thought Sam might be lonely because I
work and he's "home alone"...Anthony is potty trained
and never goes in the house. Sam on the other hand
loves to mark his territory on every corner (inside
the house.) How on earth do I get him to stop? I
love these little furr balls. But this is driving
me crazy!!!!

Their personalities are soooo different too.
Anthony is a couch potato. He only gets up
to eat. Sam, on the other hand, is "Heh! Heh!
Look at me baby. I'm really really cute. Don't
you want to pet me?" He never meets a stra


---

From: Judy (Sfsd3@aol)
Host/Computer: 152.163.213.17
Date: Sun Sep 14 17:15:02 1997

Cassie

We got our Cassie 11yr. ago after losing our hunting dog. We decided that with a 4 yr. old in the house with his brothers off to school he could use a playmate. It turned out that my husband and Cassie bonded during potty-training and love each other. Bichons are smart, quiet and a joy to live with. My husband gets his keys to the car and Cassie can't wait to go for a ride. After 11 years she has a routine that can't be beat with us both working. Our oldest just got married and told us that as soon as he and his wife get a house and we are to give them a present of a bichon puppy. This dog learned tricks at 8 years old. They are a wonderful breed for anyone that wants a loving, quiet, non shedding pet!


---

From: Tonya (hicks@premiernet.net)
Host/Computer: 205.229.224.18
Date: Sat Sep 13 21:03:09 1997

my louie

His name is Louie and I love him. I bought him in March of this year from a family that did not feel that they were home enough to have such an emotionally demanding dog. I had him one month when I found out that he had Legge Perthes disease. We had the surgery to correct the joint problem. It was a tough surgery, and there was a great amount of pain involved. He's doing well now, however. I am a 23 year old nursing student and he is the love of my life. I have no time for a man, so I've settled for sleeping cuddled up to my Louie at night.


---

From: Mike Herring (foofish@juno.com)
Host/Computer: 204.248.29.1
Date: Sat Sep 13 19:04:50 1997

My Dog P.D.

Is awesome! THE breed RULZ!!!


---

From: Sue Pfaff (Fortunt500@aol.com)
Host/Computer: 152.163.195.241
Date: Fri Sep 12 10:02:48 1997

Sensitive Skin

Tofu "suddenly" developed severe itchies at age 3; pullled hair out & bloodied skin despite spending the big bucks with vets. Solution: get infant rompers-size 18 mos-sew a few tucks to fit, give regular antihistamine and "every other day" low dose Medrol and Soloxine (thyroid med), weekly bath at home with baby shampoo. She now looks adorable in her fab wardrobe and hair/skin intact. She looks forward to her bath and massage and barks until I get her jammies on! She stays clean and contact with environmental irritants reduced. Antihistamine does not make her drowsy; (experiment with dose; I use generic 25mg gelcaps 2-3X/day). She has been on this regimen for 2+ years and is happy and COMFORTABLE! So is her relieved owner.


---

From: YVONNE LEASE (YLEASE@SHERIKON.COM)
Host/Computer: 205.136.209.162
Date: Fri Sep 12 09:35:59 1997

BICHON FRISE

I HAVE A 9 YEAR OLD BICHON FRISE NAMED BRIE THAT I RESCUED FROM THE HUMANE SOCIETY. I DO INDEED HAVE TROUBLE WITH THE HOUSE BREAKING. THE HUMANE SOCIETY THOUGHT MY BRIE WAS A POODLE BUT THEY WERE MISTAKEN. SHE IS A BEUTIFUL FIESTY BICHON.


---

From: Linda Ripinski (ll.ripinski@baylordallas.edu)
Host/Computer: 207.193.81.250
Date: Thu Sep 11 11:41:20 1997

Those wonderful bichon children!

Enjoyed reading everyone's comments. We have four Bichons that are our children and we too wouldn't take a million dollars for any of them. They are just the love of our lives!


---

From: Robert (ro-ly1@msn.com)
Host/Computer: 153.34.123.68
Date: Mon Sep 8 22:09:30 1997

Our very dear "Lady"

My wife and I have had Lady for seven years. Our children are grown and on their own now. She is the baby of the house and has been a dear companion. She is the smartest dog. Asks for cold water, ice, and dog biscuits (her favorite), understands words like "go out" "cat", 'dog" "time to go to bed". She is simply wonderful.
Robert in Homestead


---

From: diane (diasal.com)
Host/Computer: 153.34.8.245
Date: Mon Sep 8 19:14:47 1997

housebreaking

I am frantic about not having my Bichon trained after 2 months. He soils his crate with feces and urine and I am cleaning all the time. We walk him forever and then he does it in the house. he is a very quiet dog. Does not bark or whine to go out which means we always have to watch him to see if he wil go to the door. That is his only signal - and it is not consistent. HELP! Somebody!


---

From: Scott (Broussar@ix.netcom.com)
Host/Computer: 205.184.11.46
Date: Mon Sep 8 16:00:00 1997

Bichons look so stupid with puffy hair!!!

I hate it when bichons have big puffy hair.Their hair should be kept short. Stop making your dog look like a dork!!!!!


---

From: Florence Denninger (don296@msn.com)
Host/Computer: 153.35.27.8
Date: Mon Sep 8 13:56:48 1997

Little Powder Puff!

My husband and I just purchased our first Bichon, and find it to be a wonderful experience. We just lost our second Rottweiler to kidney failure and we both felt a need for another dog. My husband who is six feet and weighs 215 lbs. said he would never own a small dog because they are too fragile
and he can't play rough with them.
We are both getting up in age now, my husband is 62 and i'm a lot younger (ha-ha) and felt that raising a large dog for the third time would too much for us, so I decided on the Bichon. When I first brought our "Little Guy" home my husband went nut's. No way, take it back, get our money back and buy a Real dog etc.. Now two weeks later, I can't keep him away from "Muggsy", they both go for walks, they play together on the floor every night, and every time my husband goes to the store he ask's me to get "muggsy" ready to go for a ride with him. Now after two weeks they are the best of friends, he loves Muggsy and Muggsy loves him.


---

From: Gail Bohill (abigail@hurontel.on.ca)
Host/Computer: 205.206.182.142
Date: Sun Sep 7 20:56:00 1997

My adorable pets

We have just acquired our second Bichon. Our older dog is diabetic and has gone blind, but that creates no problem he can get around almost as well as a seeing dog. He is 9 years old and is called Pepe. He takes insulin every day and our vet keeps track of his sugar count. We adopted a 6 year old bichon about a month ago and he is a darling. It has helped Pepe become more active and they play and Pepe finds MoJo by the sound of his tags. These dogs are so loving I would have more if I had the room. Anyone who wants to find love and happiness should get a Bichon Frise



---

From: Jean (springladi@aol)
Host/Computer: 152.163.204.135
Date: Sun Sep 7 17:03:50 1997

bichons

2 bichons, twice the fun. fluffy & buster, the names say it all, fluffy is a little lady and buster is
all boy. fluffy will come in clean, buster will find a
dirt pile, no matter how small. they are a joy to have around and the best of companions. they
are creatures of habit, when its bedtime, it is time
for a belly scratch, no one goes to sleep without
completing this routine and no one goes for a
walk without the two most important walkers.
I never have to look far for my 2 shadows, they
are generally right at my feet, as they are now while I put down some of my thoughts on my most favorite twosome.


---

From: Neal Family (rneal@tcia.net)
Host/Computer: 206.96.110.149
Date: Sat Sep 6 11:52:58 1997

Our bichon frise, Chardonnay

We loved this site. The pictures were adorable-as only these dogs can be!


---

From: Anita Rounds (roundshouse@worldnet.att.net)
Host/Computer: 207.146.160.112
Date: Fri Sep 5 01:47:29 1997

Bichon Frise - My Baby Presley

I find your site very interesting. I have had my Bichon for 4 1/2 years, and you couldn't give me any amount of money for her. She is the best dog/companion I have ever had. I have allergies & asthma, and have had no problems with her being around. She has been a real joy to us. She is very loveable. I would love to have another one. I was thinking about checking into the Rescue groups but haven't been able to find a listing for one in Illinois. Thanks again for your site & the information. Anita & Presley


---

From: joanne (lamb@snycayva.cayuga-cc.edu)
Host/Computer: 150.155.1.77
Date: Thu Sep 4 18:49:01 1997

response on allergies

In response to Bob Taylor- My 11 year old son and I both suffer from environmental illness- we also have asthma and have not been able to get near any pets for a long time- not without some trouble of some kind- we now have a Bichon- Andre- who is 13 weeks old and have had him for a month. We have had no allergy problems, no asthma, nothing!! He even curls up on the bed with us before he goes in his crate at night. He is also a very loveable and sweet little pet- I have never loved a pet like this little guy- Go for it!!


---

From: Dick (tolson.richard@mcleodusa.net)
Host/Computer: 208.16.35.10
Date: Thu Sep 4 15:52:04 1997

scooter

I have only had scooter for week and a half, but HE has taken over the house, runs our shizt bonkers.He hangs on his tail and loves to be drug around the kitchen. We are cage training him, he is 8 weeks old. and he raises cain when he needs to go out. I hope with this short time of his life , he will be trained within two months...My friends that have a Bichon named tess, had her trained under two months , same method...But she is full of love and lots of other stuff.....But thanks to Gail in St louis, I have a wonderful pup.
Thanks and God Bless
Dick



[Home Page] [AKC] [AKC Registrations] [AKC Standard]
[Bichon Note Cards] [Bichon Clubs] [FAQ] [History]
[Links - Bichon & Others] [Pedigree] [Pictures] [Reading]
[Rescue] [Search the Web] [Therapy Dogs]

You are visitor to this site since October 4, 1997.
Last update: Saturday, October 4, 1997
© 1997