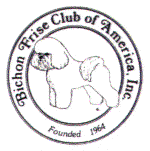 Official Website for
The Bichon Frise Club of America, Inc.
Member of the American Kennel Club
Bichons Looking for Love
United States Bichon Frise Rescue Effort
The U.S. Bichon Frise Rescue Effort is a nationwide volunteer program with currently over 30 active "Rescue Representatives." The program works in conjunction with the national breed parent club, the Bichon Frise Club of America. The Rescue Chairperson is Laura Fox-Meachen. For over 10 years, the volunteers have been actively rescuing Bichons from shelters, pounds, puppy mills, backyard breeders and individuals who give up their Bichons. Once rescued, whenever possible, the dogs are given necessary veterinary care, groomed, spayed/neutered and evaluated for placement. In some instances, dogs are determined not to be "placeable" and must be euthanized. Dogs determined to be placeable are kept until suitable homes are found. Rescue Representatives try to find good homes by screening prospective new owners to determine if they have the time and ability to provide the proper care for the rescue.


You are visitor number since January 1, 1998.

Last update: Thursday, January 1, 1998
© 1998, All Rights Reserved

BFCA Webmaster Janice Sheehy Janice@BichonFrise.com