BichonFrise-L
Bichon Frise Club of Canada, Inc.
Code of Ethics
Bichons... Bichons... Nothing but Bichons...
1. To breed Bichon Frise that conform as closely as possible to the Canadian Kennel Club standard for the breed.
2. To breed only from stock that is physically and temperamentally sound and to refuse stud service to any bitch that is unregisterable or shows obvious defects
3. Not to sell or donate Bichon to commercial dog wholesalers, retailers, laboratories or raffles.
4. Maintain an environment of consistently high standards of health and care for my dogs.
5. Keep accurate records of stock, breedings and pedigrees.
6. I will not knowingly breed any Bichon that has biological defects, hip dysplasia, slipped stifles, bad temperament, misalignment of jaw, missing teeth, etc.
7. Provide written extended pedigrees, instructional material and complete health records including a Veterinary Certificate at time of sale.
8. Guarantee all dogs free of any and all communicable diseases for ten days after leaving me breeder's premises.
9. No puppy leaves the breeder's premises until at least eight weeks of age
10. All puppies will have all necessary inoculations, deworming, and identification prior to going to the new owner.
11. All dogs sold (if owner unable to keep possession) are to be returned to the breeder or placed in a new home approved by the breeder, and the breeder shall be given first refusal on the dog in quesffon
12. All pet puppies must be sold with the Canadian Kennel Club Non Breeding agreement.
13. Bitches are not to be bred until after one year of age.
14. Unethical practices and complaints will be brought before the Board for consideration, and if found guilty will result in cancellation of membership (e.g. refusal to sign litter registration non payment of stud fees, withholding papers,etc.). Official complaints are to be submitted in writing, as outlined in the bylaws, to the Board.
15. All breeding procedures should be in writing between breeders to protect both parties, and buyers.
Bichon Banter, Fall 1996 page I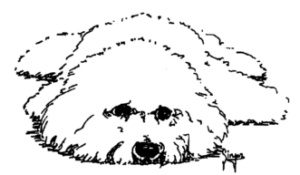 Touch a Bichon and you have touched a bit of heaven...
Hold a Bichon and you have held the world...
Love a Bichon and you will love life forever...
Author Unknown


You are visitor to this site since January 12, 1997.
Last update: Sunday, October 5, 1997
© 1997 All Rights Reserved